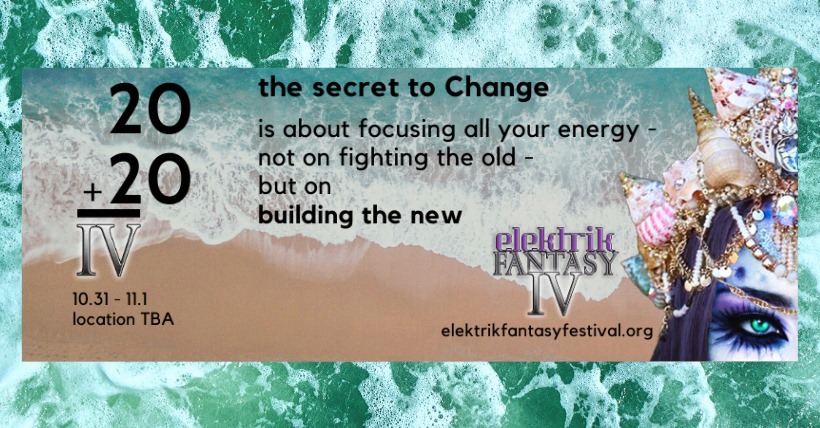 Elektrik Fantasy IV MasqueRave Festival Halloween 2020
Elektrik Fantasy Festival – the IVth Coming debuts in SOFLO!
Luxuriate in a sunshine-to-moonlight magickal island atmosphere of Unity and Imagination, fueled by sound and visuals that will elevate your consciousness, reignite your passion for Life and reconnect you with Mother Earth as you reunite with The Ocean Goddess, dancing in extravagant costumes by the Sea, surrounded by Nature's 4 elements: Air, Earth, Fire and Water.
This time we MasqueRave IV our Planet Home!
♥♥♥ Proceeds support healthy oceans, clean beaches, renewable energy advocacy and sustainability solutions here in our beloved Sunshine State through The Fantasy Foundation ♥♥♥
Together we can #rethinkfestivalimpact at North America's first #sustainable underground music festival benefit & masquerave.
ELEKTRIK FANTASY
IS A 100% SINGLE-USE PLASTICS-FREE FESTIVAL.
HEALTHY OCEANS = HEALTHY EARTH = HEALTHY COMMUNITIES
●●●●●●●●●●●●●●●●
WHEN: Halloween 2020 :: 10.31 – 11.1
WHERE: "Fantasy Island", South Florida (Secret Location revealed to ticket holders only)
WHY: To fight our huge #plasticpollution problem. To end the "disconnect" with each other and our Earth. To break our conditioning to #singleuseplastics. To UNITE us as interconnected and conscious Caretakers of our Planet….and have a seriously #epic time doing it.
WHO: We welcome ALL tribes, cultures and lifestyles to join our #RAVEolution and #DanceIVourOceans!
ages TBA
*Valid ID strictly enforced.
●●●●●●●●●●●●●●●●
► $25 EARLYBIRD ADV. TICKETS
+ #FULLFRONTALFANTASY VIP
+ FANTASY ISLAND CABANAS
AVAILABLE NOW!
► http://bit.ly/ElektrikFantasyTicketsCheap
* Tickets at the gate will be $95 + UP
ADVANCE PURCHASE IS HIGHLY RECOMMENDED!
■■■■■■■■■■■■■■■■
►► #PlayitIVward Selectors:
* #FullFrontalFantasyVIP ticket holders will be the first to know BEFORE we officially announce!
LOCALS TBA
+++ MORE ARTISTS ANNOUNCED IN WAVES
Subscribe on our site to find out WHO FIRST!
► http://www.elektrikfantasyfestival.org
■■■■■■■■■■■■■■■■
FANTASY PERFORMERS:
TBA
FANTASY VENDORS:
TBA
FANTASY OFFERINGS:
►FREE hydration stations
►Fantasy canteens
►Fantasy Island cabanas
►Face + body artistry with #bioglitter + henna
►Yoga + Align your Chakras in our Se7en Tent
►30+ #Vegan Food & Eco-crafts/jewelry Vendors
►Official Fantasy Merch – proceeds donated to our cause
►$2,000 Fantasy Costume contest w/ #Trashion category
►undergrounding [http://bit.ly/RealUnderGrounding]
+ SO MUCH MORE TBA!
●●●●●●●●●●●●●●●●
Elektrik Fantasy is an Elektrik Eventz inception.
Get Familiar:
https://www.elektrikeventz.com/
http://www.elektrikfantasyfestival.org
http://bit.ly/FantasyFoundationDonate
LIKE // FOLLOW:
https://www.facebook.com/ElektrikFantasy
https://www.instagram.com/elektrikfantasy
https://www.facebook.com/FantasyFoundation
●●●●●●●●●●●●●●●●
Get your costume ideas in serious order (we don't play), and get ready to dance with renowned Legends by the Ocean, for the Ocean, reconnect with Gaia, and be a part of The Biggest #GiveBack.
#BelieveinFantasy. Change our reality.
●●●●●●●●●●●●●●●●
►FANTASY PARTNERS AND FRIENDS:
EMRG – Elektrik Metro Radio Global – (Live Broadcast)
The Florida Underground (Supporter)
Patten Music Group (Artist Booking / Management)
Cozmik Photography LLC (Media Coordinator / Photographer)
EMA – Electronic Music Alliance (Collaborator)
Dancesafe // Dancesafe Florida (Substance Safety)
Sling Broadband – (Media Partner / Live Stream)
MORE TBA
>> Become a Fantasy Partner: http://bit.ly/ElektrikFantasyPartner
●●●●●●●●●●●●●●●●
RULES: 100% #LEAVENOTRACE & #NOPLASTICS
FULL GUIDELINES ON OUR WEBSITE – SIGN UP & BE THE FIRST TO KNOW ABOUT UPDATES, ARTISTS, DISCOUNT TICKETS, CONTESTS + MORE: http://www.elektrikfantasyfestival.org
*** Sorry, there is a NO REFUND policy because this is a #benefit festival. Dates/times are subject to change. Visit our official website for full Terms & Conditions.
●●●●●●●●●●●●●●●
Interested in working with us?
► [email protected]