SoFlo Vegans LIVE
Join us LIVE to get dating advice from the Vegan Cupid, Karine Charbonneau. Karine is the founder of Find Veg Love and has been featured on Veg News, Veg World Magazine, and NPR. RSVP on Eventbrite, Meetup, and Facebook.
Featured Episodes
Consider becoming a partner and help continue producing content showcasing South Florida and the vegan community.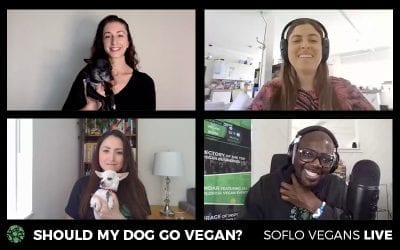 Should My Dog or Cat Go Vegans? Watch a panel where we answer the question, should my dog or cat go vegan. Panelists include Dr. Armaiti May, V-Dog Vice President, Lindsay Rubin, vegan fur mom, and SoFlo Vegans media coordinator, Alba Mendez, and your host and SoFlo...
Community Matters
Learn how you can help SoFlo Vegans continue showcasing and supporting the vegan community in South Florida.