SoFlo Vegans LIVE!
Watch the recap of the SoFlo Vegans LIVE event that took place on Thursday, September 24, 2020. Guests include Karen Ellis-Ritter, Veronica Green, and James Wildman. Click the titles below to jump directly to certain segments or watch the full LIVE stream.
SoFlo Vegans LIVE | Past Episodes
Consider becoming a sponsor and help us share this broadcast to thousands in the South Florida community. Go back to the Show page to view additional content.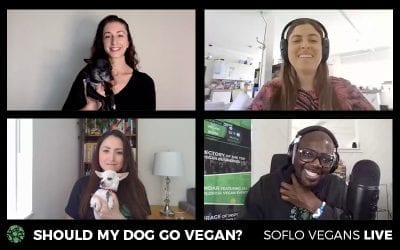 Should My Dog or Cat Go Vegans? Watch a panel where we answer the question, should my dog or cat go vegan. Panelists include Dr. Armaiti May, V-Dog Vice President, Lindsay Rubin, vegan fur mom, and SoFlo Vegans media coordinator, Alba Mendez, and your host and SoFlo...
Join Our Community
SoFlo Vegans is a grassroots organization dedicated to supporting the vegan community in South Florida. REGISTER for free and help make us become a global hotspot for veganism.