About SoFlo Vegans
SoFlo Vegans is making South Florida a Global Hotspot for veganism.
We accomplish this by providing promotional services, media content, and Live events for the veg-friendly community in Miami-Dade, Broward, and Palm Beach county. We are seeking strategic partners and funding to support marketing campaigns designed to excite, engage, and attract visitors to the veg-friendly South Florida community.
Take a Look at These Gems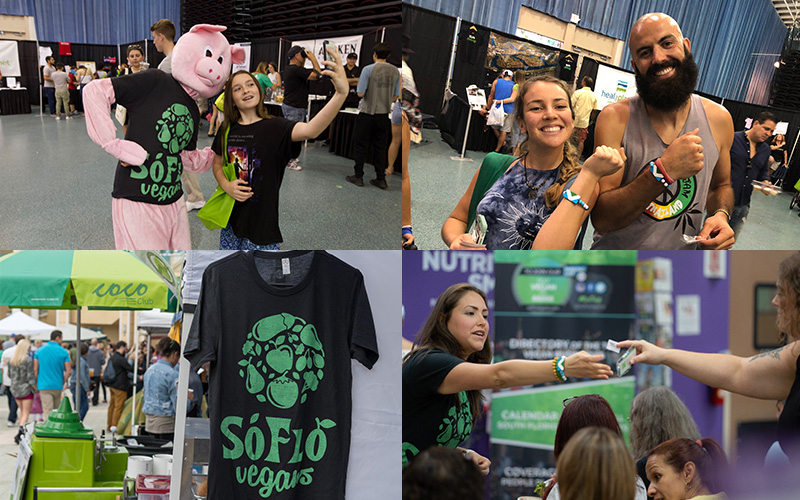 Go back in time and see what the vegan community looked like from 2017 until the present.
Distribution
Digital Digest shared at our booth through text codes, QR graphics, physical postcards, interactive activations, paid advertising, and partner promotions.
Mission
Continue to develop a community of caring and compassionate people that are dedicated to making South Florida a global destination for veg-friendly visitors.
Provide fun and entertaining resources for new and pre-vegans.
Showcase the exciting veg-friendly options and activities in South Florida.
Drive customers to local businesses that support the growing veg-friendly movement.
Marketing Strategy
Provide free and paid promotions through email, social, event, and paid promotion for local organizations.
Host monthly events that provide visitors opportunities to try new vegan food, learn about improving health, and ways get involved with protecting the planet.
Produce original videos, podcasts, magazines, and articles showcasing veganism in South Florida to attract visitors from around the globe.
Reach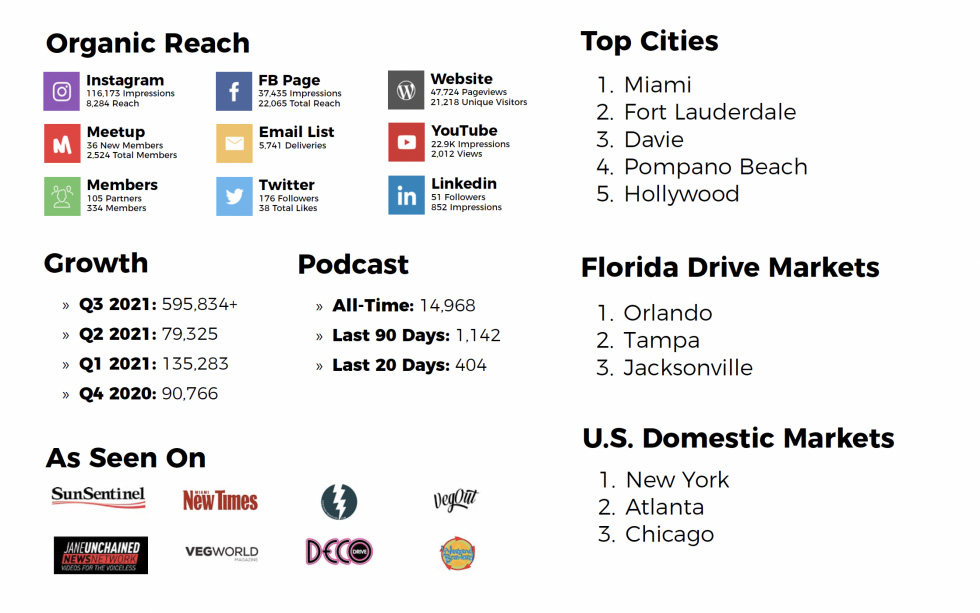 Business Services
SoFlo Vegans is powered by Lesaruss Media. Through this partnership, we work with SoFlo Vegans members to provide professional services for a number of different scenarios. Since 2017, we've supported over 300 events.
Consultations: Speak to a member of our team to see how SoFlo Vegans can support your business.
Marketing Services: Promotional services to help boost awareness of your business or event.
Media Production: Photography, video editing, graphic design, and web development services.
SoFlo Vegans EAT: A series of eating events providing a spotlight to local veg-friendly businesses.
Vendor Opportunities: Working with local promoters to find vending and food truck opportunities for our partners.
Fundraising: Marketing support, event production, and affiliate opportunities for nonprofits.
Become a Partner
A big thank you to our sponsors and all of our partners. Already a partner, log in to access our Dashboard.
Community Matters
Learn how you can help SoFlo Vegans continue showcasing and supporting the vegan community in South Florida.